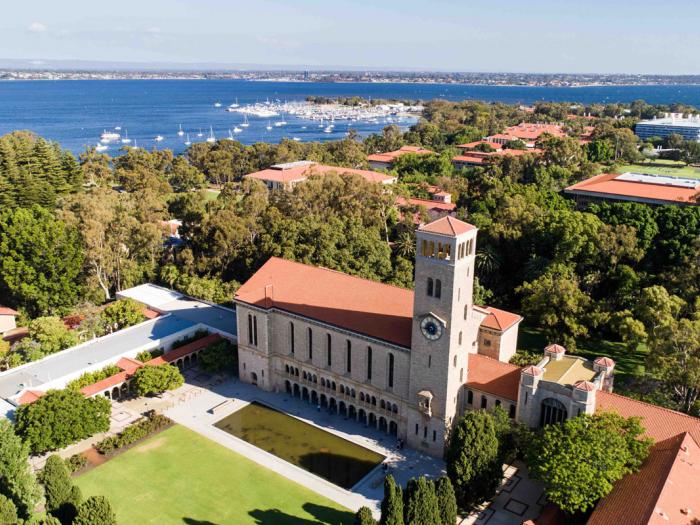 University of Western Australia
The University of Western Australia (UWA) was established in 1911 as the State's first university. It was also the first free university in the British Empire, actively promoting equal access to tertiary education for all social classes.
The University was established due largely to the efforts of Sir John Winthrop Hackett, who had a long-standing vision and passion to provide Western Australia with a university. Proprietor and editor of The West Australian newspaper, he chaired a Royal Commission which recommended the establishment of a university. Later he was the founding Chancellor and bequeathed more than £425,000 (the equivalent of more than $32 million today) to the University.
There was consensus among legislators of the time that the University not only be free, but also provide tertiary education of a practical nature to help develop Western Australia's pioneering economy. At the time of the University's foundation, Perth's population was just 121,000 and its economy relied mostly on agricultural, pastoral and mining industries.
As a result, the founding professorial appointments were in Agriculture, Mining and Engineering, Geology, Mathematics and Physics, Chemistry, History and Economics, Biology, and English. These were balanced to an extent by the appointment of lecturers in Classics and Ancient History, French, German, Mental and Moral Philosophy, and Veterinary Science. Overarching these 12 posts were three faculties – Engineering, Science and Arts.
More than 100 years later, the University is now home to four faculties, their attendant schools, and many research institutions and centres, all of which celebrated the University's Centenary in 2013. UWA also entered the internationally recognised Academic Ranking of World Universities' Top 100 listing, continuing to set the standard for other Western Australian universities to follow in terms of recognition for its achievements nationally and internationally.
Faculties and Schools
Arts, Business, Law and Education
Business School
Confucius Institute
School of Design
Graduate School of Education
School of Humanity
Law School
UWA Conservatorium of Music
Engineering and Mathematical Sciences.
School of Engineering – (Department of Chemical Engineering, Department of Civil, Mining and Environmental Engineering, Department of Electrical, Electronic and Computing Engineering, Department of mechanical engineering)
School Physics Mathematics and Computing – (Department of Computer Science and Software Engineering, Department of Mathematics and Statistics, Department of Physics)
Oceans Graduate School
School of Agriculture and Environment
School of Biological Sciences
School of Earth Sciences
School of Human Sciences
School of Molecular Sciences
School of Psychological Sciences
Health and Medical Sciences.
School of Biomedical Sciences
School of Allied Health
Dental School
Medical School
School of Population and Global Health
School of indigenous studies.
Graduate Research